Bite magazine: Editor's picks, August 8
My relationship with wine is not healthy. I have this on good advice from nutritionist Mikki Williden. I have had a close working relationship with wine since I managed the Cuisine wine tastings with MW Bob Campbell back in their heyday . . . ooohh, let's just say more than 20 years ago . . . where, without really realising it, I was getting a first-class wine education. I have appreciated a good drop ever since, and I struggle to find an evening that doesn't match perfectly with a glass of this or that.
However, recent reports on the adverse effects of wine consumption have been niggling at me and I found myself pleading with Mikki not to tell us to stop drinking it. In her column she has framed it well, with responsibility sitting firmly in our own hands and I have realised that it is counter-productive not to bring my wine consumption into line with my philosophies on eating fresh and avoiding processed foods so I am making an effort to drink less and to have more alcohol-free days.
Ray McVinnie's perfect pizza ideas have me making one for dinner but I'm with him - I will be enjoying it with a glass of red.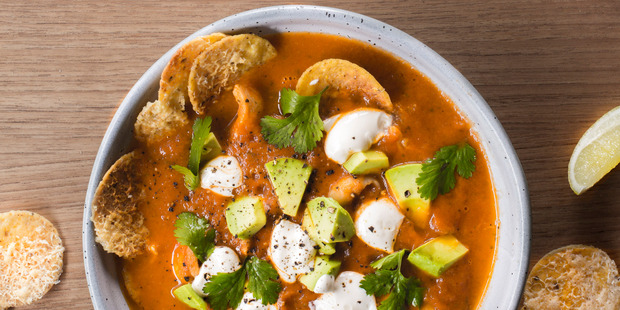 Cooking with wine is a whole different relationship and it is red wine that is putting the flavour in to Kathy Paterson's bolognaise sauce and rhubarb meringue pie. She also shows us how to make a quick wine sauce for pan-fried meats. If it's soup you crave come with us on a worldwide journey starting with Portuguese kale soup, Mexican tomato and tortilla soup, Ukranian beef and beet broth and Scottish smoked fish soup.
Congratulations to Sherene Newby who has won the amazing Samsung Chef Collection Gourmet Vapour Oven 73L for her bobotie recipe. We now have a trip to Nelson's Snapafest up for grabs. Enter your best seafood recipe here.
https://www.eatwell.co.nz/hot-topics/whats-on/2912/Bite-magazine-Editors-picks-August-8/