Bite magazine: Editor's picks, 28 September
Warren's Neapolitan ragu had the rest of the Bite team perplexed - his friend Taxi calls it gravy or red sauce but it's full of meat so here in New Zealand we'd call that a stew, but the word stew is too modest for this impressive dish full of meaty delights bound together in their rich, red gravy. It does become even more gravy-like the more you reheat it and the meats start to fall apart, but we thought the name gravy would be confusing. In the end we settled on Neapolitan ragu because it originates in Italy, the Italian-Americans adding such things as meatballs. So hopefully I am not confusing things even more, early spring is also a confusing time in the kitchen.
Yes we are ready to move on from soups and stews, but much of the spring produce is a ways off, and so is the good weather. This transitional stage requires flexibility. Serving Warren's ragu with a fresh salad (fennel and orange is good) and crusty bread, rather than cooked greens and mash takes it from winter to spring and provides a little of everything we need.
Ray McVinnie has many more ideas to help lighten up the menu in his Get the Idea column this week - panfried salmon fillet with hot steamed jasmine rice salad which contains plenty of finely chopped ginger, dill, mint, coriander, thinly sliced kaffir lime leaves, long-strand coconut fried in a little oil, a finely chopped clove of garlic, lots of chopped roasted unsalted peanuts and a dressing of equal parts fish sauce and fresh lime juice, finely chopped fresh pineapple, sliced red chilli, a little sesame oil and grated dark palm sugar to sweeten - yes please!
Our weather also makes the spring school holidays hard to plan for but cooking is an all-weather activity. Hospobaby is in the Sidart kitchen cooking breakfast with Dad, Kathy Paterson has a vanilla pudding, a rhubarb shortcake and a chocolate clafoutis they'll want to have a crack at and we have recipe collections that will keep them cooking meals for the rest of the day too.
We've caught Rugby World Cup fever and matched a favourite recipe to all 20 countries competing - it's delicious stuff, take a look here. And don't forget our prep-ahead breakfasts collection to help everyone through the early morning starts.
From the wellbeing team, Mikki Williden helps us to balance our Omega 3s, Louise Thompson says "happy people don't make excuses, they get committed" and Peter Gordon gives vegetarians a taste of pork crackling.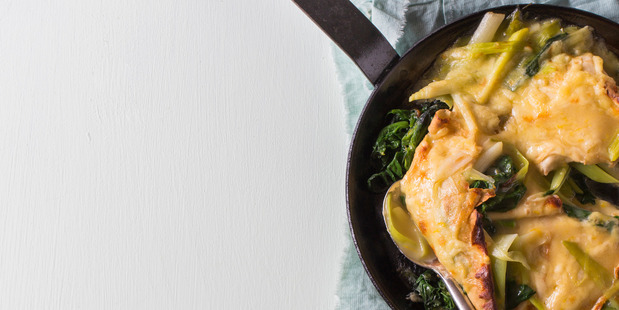 Dinner tonight? Try Kathy Paterson's spinach and baby leek pancakes.
https://www.eatwell.co.nz/hot-topics/whats-on/2338/Bite-magazine-Editors-picks-28-September/